OPERA Solutions and Toray Research Center jointly offer integrated services to accelerate R&D delivery in the organic electronics industry
FUKUOKA, May 12, 2021 – OPERA Solutions Inc. and Toray Research Center, Inc. have recently entered into a strategic alliance in the field of organic electronics, including but not limited to OLED technologies, and today jointly launch an integrated service package to support research and development in this industry.
The two companies will showcase the joint offerings, designed to accelerate the customer's product development and commercialization, at their exhibition booths and at the events in SID's Display Week 2021, a virtual conference on May 17 – May 21, 2021.
The integrated services are a fusion of OPERA Solutions' reputable platform of organic device evaluation and Toray Research Center's advanced instrumental analysis technologies. The services enable support to customers in various aspects such as prototyping and proof-of-concept at the initial R&D stage, proof-of-value during the product development and solutions to technical issues during mass production.
Through strong collaboration, the two companies aim to expand their value proposition to customers in a wide range of applications and wish to contribute to the advances in next-generation electronics that will shape our future.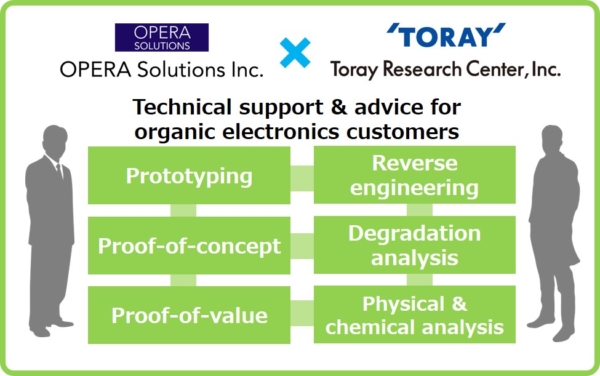 OPERA Solutions is an innovation hub for soft electronics. By undertaking contract researches for industries, we help customers accelerate their product development and hence accelerate the launch of cutting-edge applications in the market.